Does your organization need an effective way of keeping up with continually changing roles?
Do you need accurate role descriptions to conduct market comparisons?
Do your employees need clear responsibilities and career paths?
Quick Role Profile is the ONLY job description tool that has access to over 1000 prepared job summaries from the Wynford Group's Canadian Salary Survey.


Ways Quick Role Profile Can Help
Quickly and accurately develop role profiles to customize to your organization's unique jobs.
Provides an online tool that is quick and easy to develop and update customized job descriptions for your organization.
Saves time and can easily be used by line managers, employees as well as HR professionals.
Why Role Profiles?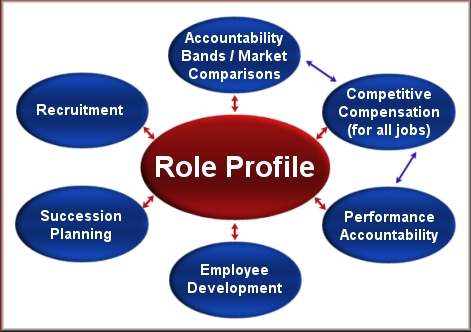 Features
Versatile - can be used for multiple purposes (see above).
2 versions:
Quick Profile (click here to see sample - PDF)
Full Profile (click here to see sample - PDF)
Can be customized to fit specific job evaluation or classification factors.
Easy to use - providing checklists as well as open text sections.
Ensures consistency in style of descriptions yet provides opportunity to identify unique aspect of role.
Links with performance accountability, classification, career development and other modules.
Can be linked to compensation information.
Encourages communication between employees and supervisors.
For more information, contact Gail Evans at 1-877-264-5166 or wynford@wynfordgroup.com