A snapshot of Canada's Dynamic Environment
Compensation Trends and Forecasts for Summer 2018
Prepared By: The Wynford Group
The results included in this report are based on over 200 company submissions across Canada for the 2018 Spring Flash Survey between the months of April to June. The Wynford Group conducts FREE flash surveys every Spring and Fall to provide a snapshot on current compensation and human capital trends. The focus of this summary report is on salary increases implemented for 2018, as well as human capital management strategies currently in use across Canada.

We hope that you find these results useful as your organization moves further into 2018. The Wynford Group encourages you to contact us for more information on how we can work with your organization in addressing totals rewards and compensation needs.

For more detailed insights and in-depth data, please see our annual Canadian Salary Surveys.
Please click here for more information.


Actual 2018 Salary Increases - Including Zero's
Average Regional 2018 Base Salary Increases: including 0's (%):
| | |
| --- | --- |
| National | 2.43 |
| British Columbia | 2.58 |
| Alberta | 2.39 |
| Saskatchewan | 2.30 |
| Manitoba | 2.47 |
| Ontario | 2.50 |
| Quebec | 2.48 |
| Atlantic | 2.30 |
| Ontario | 2.37 |
2018 Base Salary Greatest Increases by Industry including 0's (%):
| | |
| --- | --- |
| Software Development | 3.00 |
| Energy Services | 2.53 |
| Manufacturing | 2.50 |
| Advanced Technology | 2.46 |
| Financial | 2.56 |
2018 Base Salary Smallest Increases by Industry including 0's (%):
| | |
| --- | --- |
| Not For Profit | 1.89 |
| Public Sector | 2.00 |
| Mining | 2.00 |
| EPC / EPCM | 2.06 |
| Telecommunications / Utility | 2.11 |
Economic Outlook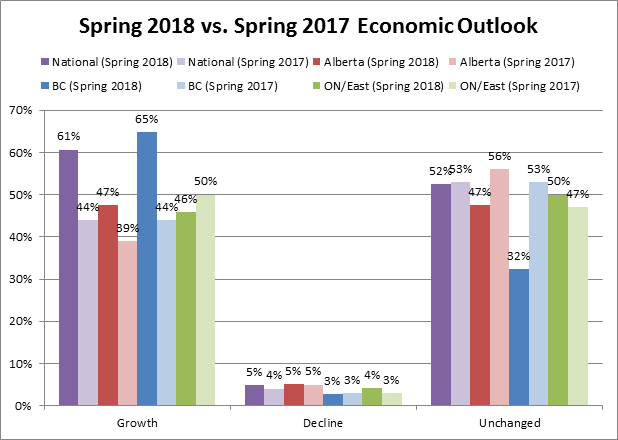 The graph above provides insight into how our participants view the Canadian economy in 2018:

After overcoming the worst of the recession, the majority of Alberta participants have a positive view of growth for 2018 with 47% of organizations reporting they will experience economic growth in the year to come, representing a significant increase from 39% in the spring of 2017.


British Columbia continues to lead the country in growth, showing a very optimistic outlook for 2018 of 65% expecting economic growth, an increase of nearly 21% of companies from the previous year.


Ontario on the other hand, has seen a small drop in perceived economic growth to 46% for 2018.


Overall, these figures indicate the economy is rebounding from the recession of the past few years.

Human Capital Practices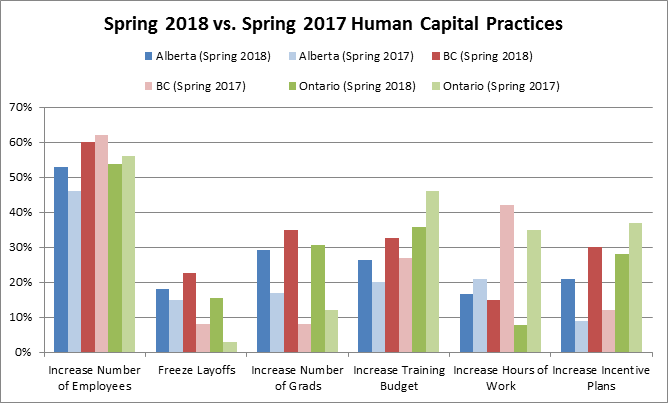 Helping to highlight the overall positive outlook of the Canadian economy for 2018 are the Human Capital Practices figures summarized in the graph above.

Over 50% of Albertan organizations will be hiring in 2018, which represented the largest growth of more than 5% from the previous year.


While both B.C. and Ontario indicate slight drops in employee growth, both still have over 50% of organizations in showing increases in their workforce numbers.


The clear reduction in employment freezes and layoffs point towards strong economies across the country.


Other positive figures such as increased hiring of graduates and increased training budgets in all areas.


Of particular interest is the increase in training budgets and use of incentive plans in BC and Alberta, which indicates interest in longer-term retention strategies.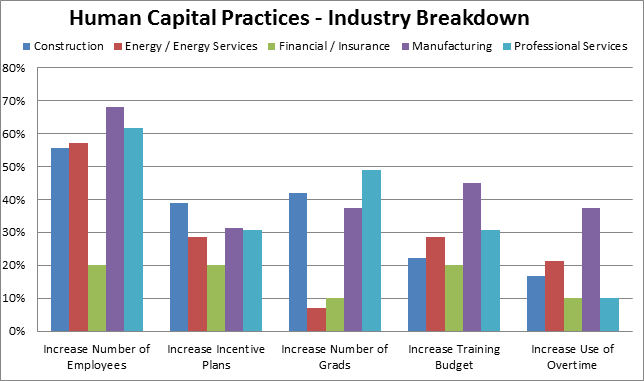 Breaking down the Human Capital Practices by industry provides an alternative perspective and shows which industries are more optimistic than others in 2018. Some of the highlights are as follows:

Close to 70% of the participants from the manufacturing industry are reportedly increasing the number of employees in 2018 - which is over 10% higher than the other industries


While the Construction sector is not increasing the workforce as to the extent that they did in 2017, over 40% indicated they are increasing the number new graduates.


Overall, it appears that those industries that were hit hardest by the economic downturn are showing strong increases in hiring back employees and new graduates over the previous two years.


The significant increase in the use of overtime for the Manufacturing sector suggests expected growth in hiring and economic growth in that sector.


Subscribe to our Mailing List for latest information on upcoming events and services;

Canadian Salary Survey Initial Online reports Distribution - Mid September 2018
Construction and Mining Online reports Distribution - Early October 2018
13th Annual Compensation Update Seminar
Edmonton - October 18th 2018
Calgary - October 31st 2018

Fall Flash Survey - November

Need more in-depth data? Wynford's Canadian Salary Surveys and National Construction & Mining Surveys
are just what you're looking for! Our user friendly cash data reports are broken down by three
simple features including: Location, Industry and Revenue/Organization size.